Standard frame clip arrangement
Rainwater drainage points
Here are some guideance on dealing with the 2 types of rainwater drainage points on upvc doorframes.
CONCEALED DRAINAGE POINT

Where the bottom frame member meets the step/sill. If this is the case then it needs to be sealed with a sealant (as per instructions supplied). Modern upvc frames are such a good fit that the rainwater entering the property i.e. collecting on the thresholds is virtually non existent.

DRAINAGE HOLES

(with hoods that unclip in the bottom frame member) – If this is the case, then providing the holes are more than 1cm (10mm) above the step then the barrier will be ok. If however the drainage holes are less than 1 cm above the step you can temporarily seal these with duct tape when flooding is imminent.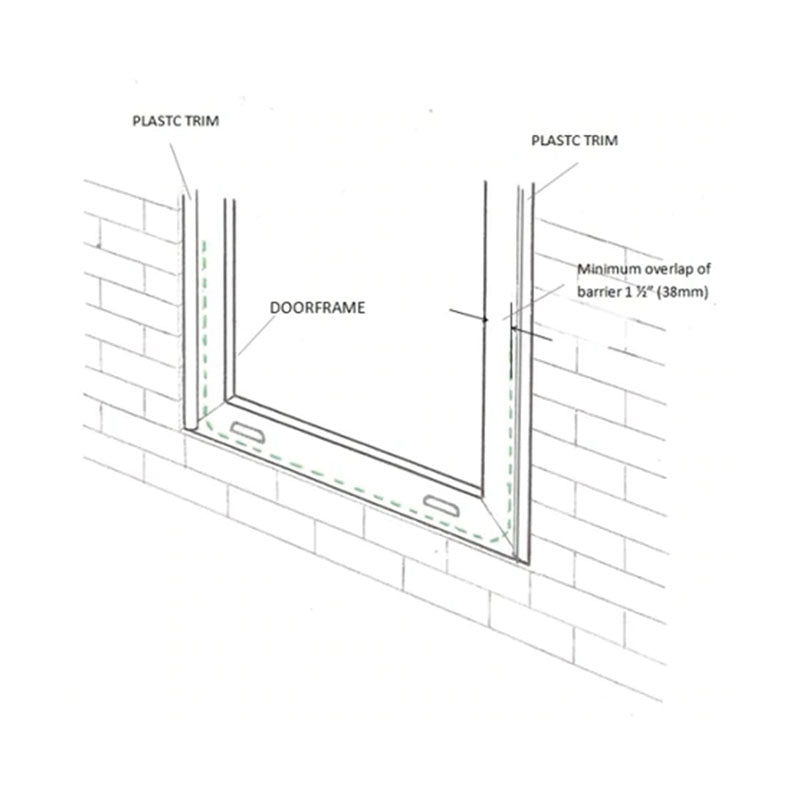 uPVC Frames with plastic trim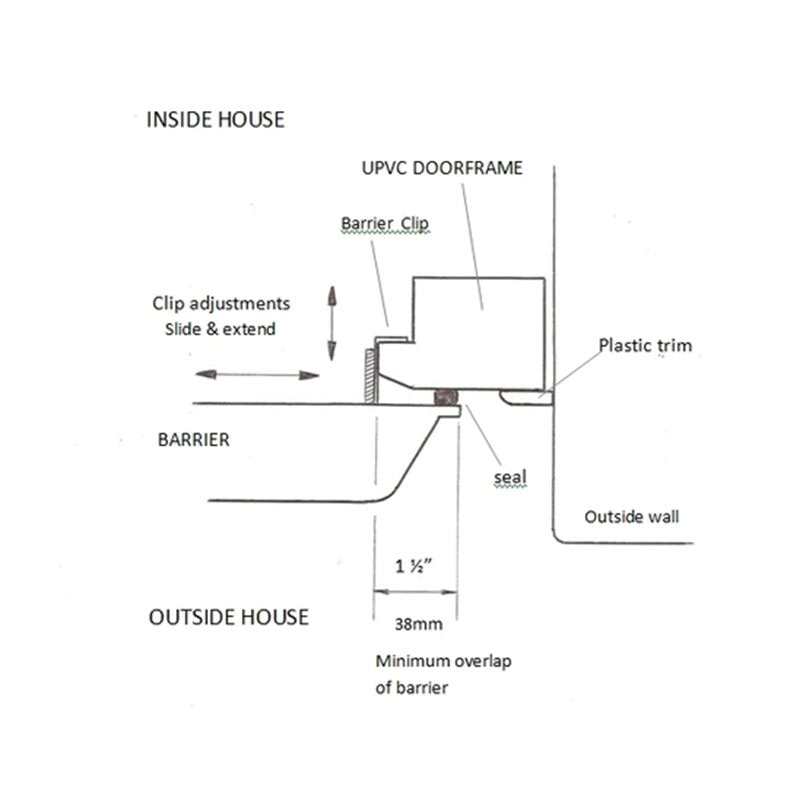 Clip arrangement with trim
Watch our installation video
Get the answers on installation
How easy is it to fit a Floodshield?

Very easy. Floodshield was designed knowing that sometimes you have to fit it in an emergency. Simply wind the clips to the length you want, and press into place.
Do you really not need any tools or permanent attachments to my home?

You really don't! You don't need to have any ugly attachments to your building, or find the tool box when there is a flood warning. Simply take the Floodshield out from storage and clip it into place.
What size door will a Floodshield protect?

Floodshield will protect most residential single doors: from 760mm wide to 960mm wide.
My doorframe is very deep, will your clips reach the frame?

Our Floodshields come fitted with standard 50mm bolts. Longer bolts can be supplied if required.
My doorframe is narrower than the 35mm needed, what can I do?

Affixing a wooden batten each side of the door frame will increase the width of the outside surface to a above the required 1 ½ inches (35mm). This will allow the barrier to seal and clip to the frame correctly. Once the wooden batten is painted it becomes part of your door frame. Go to our wooden door frames help section for a diagram example.
How do I know if I need a Standard Floodshield or a uPVC Floodshield?

uPVC Floodshields are only for use with doorframes that have a continuous bottom threshold. All other doors require a Standard Floodshield.
Will I need to avoid the plastic trim down the edges of my UPVC door frame when I choose the barrier size?

UPVC door frames are approx. 75mm wide, which allows the barrier to overlap at least 35mm each side of the door frame. This width means that there should be ample space to fit the barrier whilst avoiding the plastic trim. Go to our UPVC door frames help section for a diagram example of this.
Do Floodshields work with outward opening doors?

Unfortunately, Floodshield only able to attach to inward opening doors. For outward opening doors we recommend FloodSax.
Do flood barriers really work?

Yes they do. Floodshield has been extensively tested in flood test facilities, and of course by customers in real life flood situations.
Want to know more about Floodshield?
Why Floodshield?

Head over to our Floodshield page to find out why this is the only door flood barrier you will ever need, and so much more.

Find out more

Have a specific question?

Take a look at our frequently asked questions, where you will find the answers to the questions our customers ask.

Get your answers

Looking to buy?

If you are ready to purchase your Floodshield, head on over to our online shop to select your size and type.

Start shopping